Many of my clients decide to adopt the RACI or Responsibility Charting technique because they are frustrated with the pace or the type of decision-making going on in their organizations. Matrix organizations, because they are the most complex kind of organizations, often experience these challenges. Let's take a look at matrix organizations and how decision-making can bog down there.
First, what do we mean when we say "matrix" organizations? Historically, organizations grouped people together according to their expertise or FUNCTION, e.g. engineering or finance. These are known as functional organizations. But there are compelling reasons to take functional specialists and have them work together in a different way, bringing them together for a project or business or geographically focused organization. This form of organization can be called horizontal, or project, or even line organization.
Some organizations have formalized their matrix and have their managers formally report to two distinct areas. Other organizations have adopted the matrix informally to mix people with different skills and talents to solve problems. For example, many fundamentally functional organizations will create special project teams to handle critical projects.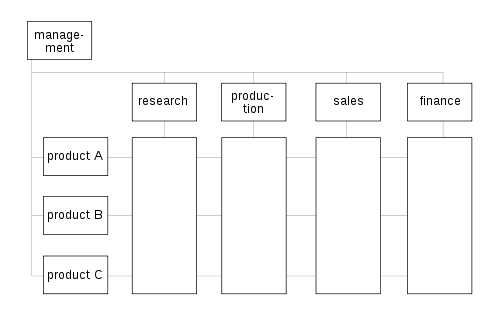 Matrix organizations solve some problems and create others, however. These are so well known that even Wikipedia points them out, saying "The disadvantage of matrix management is that employees can become confused due to conflicting loyalties. The belief is that a properly managed cooperative environment can neutralize these disadvantages." It also points out that having multiple managers who must sign off on decisions means that time to reach a decision can be considerably longer.
Problem #1: Conflicting Loyalties
What happens if you are reporting to two different people and they don't have time to align themselves, or worse, they disagree? This can be especially painful to deal with, as priorities, instructions, and workloads conflict.
The RACI tool recommends that there be only one "A" role for a project. This forces a negotiation—this time, which one of my bosses is going to have ultimate authority, and which one is going to stand down? If there is a deadlock, then the "single A" rule tells us to kick the question up one level, where there is a higher authority that can resolve the conflict.
If you are stuck between two bosses or leaders in a negotiation like this, remember that the best way to resolve it is to first have a direct conversation with each of them. You need to let them know about the problem, because often they are not directly in touch with one another, and they may not even know they are sending conflicting signals! Ideally, the next step is that they will then have the conversation with each other and let you know how the issue is resolved.
Using the RACI language or a RACI matrix makes these kinds of conversations easier to have and more likely to happen. "Look, we need to resolve who has the 'A' here, because I'm confused." (For more on the definition of the RACI codes, please see "Defining the RACI Codes.")
Problem #2: Decisions are taking too long
Another frustration that many clients experience in their matrix organizations is that decision-making is protracted and unclear. "There are so many people who have to be involved!" they tell me, "And no one really knows who is in charge." Firms that are growing are especially prone to this kind of decision-making slow-down. In the beginning, when the firm was smaller, it was fine to have an informal decision-making style and everyone liked to be involved in every aspect of the business. As the business prospers and grows, however, this kind of decision culture can be costly. In order to continue to grow, a firm needs to develop systems and differentiate people's roles. Not everyone can participate in every decision, and a consensus culture is too slow.
Matrix organizations—with their functional authority and project authority—are particularly prone to this kind of role confusion. "Whose decision is it, anyway?" and how long do we need to invest in developing a consensus before we can move forward?
The RACI technique is a lifesaver for organizations that are feeling this kind of growing pain. It is fast to learn and easy to teach, and it facilitates the kinds of conversations that help a senior team figure out how to parse their different roles. RACI gives you a neutral language and a simple set of rules for streamlining decision-making. With RACI in hand, these negotiations are easier to conduct and a healthy agreement about who has the authority for which decisions is easier to achieve.
If you want more information about the growing pains associated with business growth, there is an excellent book by Eric Flamholtz and Yvonne Randle called, Growing Pains: Transitioning from an Entrepreneurship to a Professionally Managed Firm. You can download an abstract and take the quiz to determine if your business is experiencing these growing pains.
About RACI Solutions
RACI Solutions has been helping organizations across the globe utilize the power of RACI to transform the dynamic of cross-functional teams since 2007. Whether you are new to RACI or have used it for years, we can help.
Today's business environment is complex – you may be contending with matrix structures, rapid growth, mergers, multiple locations, virtual employees, and/or digital transformation.
As a result, project teams can get stuck. Let us help you! If you need to learn RACI, we offer train-the-trainer materials and custom workshops. We can help you create RACI super-users. If you already use RACI or another decision matrix, we offer programs that help you become skilled at working across functions – an effective horizontal leader. We help project teams tune up their performance. We help organizations streamline their decision-making.
Our team is comprised of expert consultants, trainers, and facilitators, who can help your teams and their leaders achieve a seamless level of collaboration.