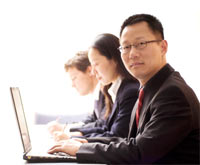 Sometimes people will say, "Oh, we don't need to use the RACI tool, that's too formal. We know who is supposed to be doing what around here," and they may well be right. RACI is a more formal way of determining accountability and authority in a company – depending on the size and the complexity of the organization, you may not need it.
But one good question to ask is — "Is my team located in the same place?" Once team members are scattered geographically and can no longer get together for regular meetings, that may be the time when a more formal tool is needed.
Dr. Ana Reyes, expert on leading virtual teams, is a consultant and a professor at the University of Pennsylvania. She tells us that on a virtual team …
"Management practices have to be much more conscious and explicit than when people are close by. Face time is useless. You can't find out what they did all day." To have an effective virtual team, Reyes recommends developing explicit, transparent processes (approaches, methodologies, workplans, and procedures) and outputs (deliverables, records, milestones, outcomes, and documents). "This enables your team to produce consistent results in a consistent way," she says.
What happens when you use the same informal management in a larger, more complex and virtual environment? Studies have found that the greater "virtual distance" among team members, the more miscommunication, lack of clearly defined roles and personal and cultural conflicts can occur.
Research by Dr. Karen Sobel Lojeski and Dr. Richard Reilly of Virtual Distance International have found that there can be a 50 percent decline in project success under these conditions.
Find the interview with Dr. Ana Reyes and best practices for virtual teams here in Wharton's Wharton@Work, and consider using RACI to clarify roles on your virtual team.
About RACI Solutions
RACI Solutions has been helping organizations across the globe utilize the power of RACI to transform the dynamic of cross-functional teams since 2007. Whether you are new to RACI or have used it for years, we can help.
Today's business environment is complex – you may be contending with matrix structures, rapid growth, mergers, multiple locations, virtual employees, and/or digital transformation.
As a result, project teams can get stuck. Let us help you! If you need to learn RACI, we offer train-the-trainer materials and custom workshops. We can help you create RACI super-users. If you already use RACI or another decision matrix, we offer programs that help you become skilled at working across functions – an effective horizontal leader. We help project teams tune up their performance. We help organizations streamline their decision-making.
Our team is comprised of expert consultants, trainers, and facilitators, who can help your teams and their leaders achieve a seamless level of collaboration.