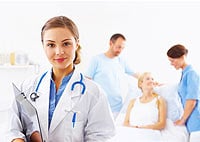 One of our TNG clients is creating a pilot for a Patient Centered Medical Home. For two years, the health system will fund a health coach that will work with several of its family practices. Like many other changes in health care today, this initiative will only succeed if it finds a strong physician champion inside the practice. One of our goals for the meetings that Alex and I facilitated was to identify a physician leader for the pilot. We were testing for commitment. Which practices had the kind of leadership that we were looking for?
Often this kind of recruitment can sound conceptually vague. What do we mean when we say "commitment?" People may be hesitant because they're unsure what's involved. We decided to use the RACI tool to help the physicians we were meeting with understand what was being requested. We taught them the basic tool in about ten minutes.
One of the great virtues of RACI is that it makes the abstract very concrete. "What are some of the tasks that a physician champion will be asked to do?," we asked the group. "What decisions will they be asked to make?" Soon people came up with a short list. Determine what is best practice for the patients, they answered. Keep an eye on the health coach to make sure that the work is getting done correctly. Yes—evaluate performance. Represent things that the practice is learning at a monthly meeting with the rest of the medical group. Talk to patients if something goes wrong in an interaction with the health coach. The list grew. We were talking about what a physician champion would have the "R" and the "A" for – that's all we focused on.
Of course, the physicians in the group were also interested in how much authority they would have. So we talked about where there were decisions involved—like recruiting and hiring the health coach—and who had the "A" for those decisions.
Pretty soon there was a much clearer understanding of what the role was going to entail. And there was real excitement. In each meeting we facilitated, people volunteered to serve in that physician champion role. Using RACI helped us get there.
About RACI Solutions
RACI Solutions has been helping organizations across the globe utilize the power of RACI to transform the dynamic of cross-functional teams since 2007. Whether you are new to RACI or have used it for years, we can help.
Today's business environment is complex – you may be contending with matrix structures, rapid growth, mergers, multiple locations, virtual employees, and/or digital transformation.
As a result, project teams can get stuck. Let us help you! If you need to learn RACI, we offer train-the-trainer materials and custom workshops. We can help you create RACI super-users. If you already use RACI or another decision matrix, we offer programs that help you become skilled at working across functions – an effective horizontal leader. We help project teams tune up their performance. We help organizations streamline their decision-making.
Our team is comprised of expert consultants, trainers, and facilitators, who can help your teams and their leaders achieve a seamless level of collaboration.