For five years, RACI Solutions has been developing customized virtual learning solutions for our clients who want enterprise-wide RACI training. Now we are pleased to announce a new e-learning course designed to teach RACI at two levels. This course covers "RACI Basics" and allows you to give an awareness level of RACI to every employee, and then offers "RACI Masters" training that expands our basic workshop to show you how to apply RACI to a wide range of business challenges.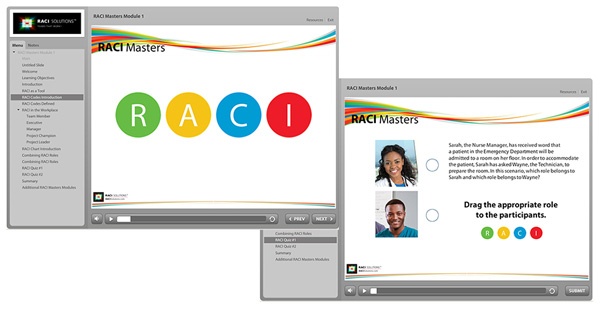 In the Masters Level modules, managers will learn how to use RACI to improve:
Project management
Meeting effectiveness
Team leadership
Cross-functional collaboration
Onboarding and HR processes
And more!
The RACI Masters e-learning course features:
Short-form Learning: 15 modules, each 4-11 minutes long
Awareness Modules: Align every employee on a common understanding of RACI with the first two modules, a total of 18 minutes.
Flexible Curriculum: Navigate the course in any order and learn what you want. Focus on project management, HR applications of RACI, or leading change.
Real-world Applications: Six interactive activities demonstrate how RACI can be applied to real world situations.
Resources and Templates: The course includes fifteen resources and templates to help you and your employees sustain the learning.
Whether you're looking to enhance your individual training in the RACI matrix and its applications, or you are interested in an enterprise license for your company, the RACI Masters e-learning program is designed to meet your needs.
Click the button below to request a demo of the course and preview the course outline.
About RACI Solutions
RACI Solutions has been helping organizations across the globe utilize the power of RACI to transform the dynamic of cross-functional teams since 2007. Whether you are new to RACI or have used it for years, we can help.
Today's business environment is complex – you may be contending with matrix structures, rapid growth, mergers, multiple locations, virtual employees, and/or digital transformation.
As a result, project teams can get stuck. Let us help you! If you need to learn RACI, we offer train-the-trainer materials and custom workshops. We can help you create RACI super-users. If you already use RACI or another decision matrix, we offer programs that help you become skilled at working across functions – an effective horizontal leader. We help project teams tune up their performance. We help organizations streamline their decision-making.
Our team is comprised of expert consultants, trainers, and facilitators, who can help your teams and their leaders achieve a seamless level of collaboration.