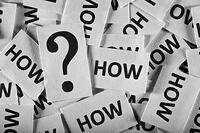 Attending a conference today for nursing leaders in Southeastern Pennsylvania, I heard a story that stood my RACI Solutions hair on end. I talked with a nurse executive who did some work with RACI last year, as a member of a 45-person committee that was told to use RACI as it developed its work plan. The committee chair had received some RACI training in Human Resources, but wasn't really qualified or comfortable teaching the tool. This group was too large to learn and apply RACI in a single setting, and they struggled. After an hour or two, they produced a RACI matrix all right, but they never looked at it again. She called the meeting "alphabet soup."
What went wrong?
RACI looks easy – but it can be hard to apply. Here are some common pitfalls:
1. Don't explain why you are using RACI.
You don't want people to think that RACI is being imposed on them "from above" without any explanation of its value. Start teaching RACI by explaining why it prevents problems down the line. It's worth the investment of time to think about roles on your team. If you need help with this, click here for the blog, "The Power of Role: Why RACI Matters."
2. Don't clearly define the RACI codes.
Reaching agreement on roles is hard if you spend the whole meeting struggling to understand what "R" means and what "A" means. Click here for a blog article that defines the codes, "Defining the RACI Codes: Understanding the Language."
3. Don't create an overly complicated RACI matrix.
Part of the art of creating a RACI matrix is FOCUSING on 8-10 activities that are the most critical. You can define "critical" by how important the steps are, or you can zero in on the activities where there is likely to be confusion or overlap. If you need to, break the plan into 2 or 3 separate RACI charts, rather than trying to build a single, overloaded chart. For more advice on limiting the scope of a RACI chart, see "How large should a RACI chart be, anyway?"
4. Don't allow time for negotiation.
The real value of RACI is that it teaches a simple language for negotiating roles on a team or a project. That means that the real pay off comes when people don't agree on who should do the work, or where the decision will really get made. These discussions are the heart and soul of RACI, and its principle value. If instead you rush through the creation of the RACI matrix, people may just go through the motions. After the meeting, they just go do "their own thing."
5. Don't work with a group that's too large.
45 people on a committee is a huge group – if they are going to negotiate roles and create a common project plan, you'll need to break them into smaller groups of 8-10 people and then allow time for them to work on distinct parts of the project, and time to combine their efforts back together again. You can end up with a unified product but you'll need to allow sufficient time to build it from smaller chunks.
Avoid these pitfalls and you can have a much more successful experience with RACI. No alphabet soup!
About RACI Solutions
RACI Solutions has been helping organizations across the globe utilize the power of RACI to transform the dynamic of cross-functional teams since 2007. Whether you are new to RACI or have used it for years, we can help.
Today's business environment is complex – you may be contending with matrix structures, rapid growth, mergers, multiple locations, virtual employees, and/or digital transformation.
As a result, project teams can get stuck. Let us help you! If you need to learn RACI, we offer train-the-trainer materials and custom workshops. We can help you create RACI super-users. If you already use RACI or another decision matrix, we offer programs that help you become skilled at working across functions – an effective horizontal leader. We help project teams tune up their performance. We help organizations streamline their decision-making.
Our team is comprised of expert consultants, trainers, and facilitators, who can help your teams and their leaders achieve a seamless level of collaboration.