Perhaps you have heard about the RACI model or matrix, and you are wondering "What exactly is RACI? Can it help me?" This versatile tool charts roles and responsibilities to increase communication, collaboration, and teamwork. And with numerous ways to use it—from project management to onboarding to creating meeting agendas—yes, it can help you!
What is RACI?
RACI (pronounced "ray-see") is a powerful tool that clarifies individual or group roles for each task in a project or business process, and it creates a simple language to discuss roles and responsibilities within an organization.
First introduced in the 1950s, RACI was originally called the "Decision Rights Matrix" and is also known as "Responsibility Charting." There are also other RACI variations, like RASCI, ARCI, and DACI. It is the only project management tool that deals with people and role.
Today the RACI matrix model is used by a wide variety of companies, from eBay to Amazon and from Proctor and Gamble to the U.S. Department of Defense. The larger and more complex the company, the more it needs and uses RACI. But smaller, high-growth companies are turning to RACI with great frequency too as they grapple with the challenges of growth.
Why is RACI so valuable?
RACI gives us a simple language to discuss a complex subject, our roles and how we relate to others around us. In the modern business environment—increasingly cross-functional and project-based—it is a lifesaver to have a simple way to negotiate across departments and project boundaries.
When team members are unclear about their responsibilities and accountabilities, conflicts develop. Tasks get forgotten, time is wasted, and resentment builds. Or no one at all focuses on a critical project and accountability suffers.
Often these problems are seen as the faults of the individuals involved (the "jerk theory"), but they are frequently caused by gaps in communication or misunderstandings between two individuals or groups.
By using the RACI language to clear up confusion or doing a RACI chart to clarify your team's roles and responsibilities, you create a shared, neutral project plan. Making sure your team is on the same page helps you keep your project focused and on track.
How does RACI work?
The RACI matrix charts project participants and activities. Participants on any given task or activity are assigned one of four roles: Responsible (R), Authorize or Accountable (A), Consult (C), and Inform (I).
For example, here is a simple RACI matrix for making dinner: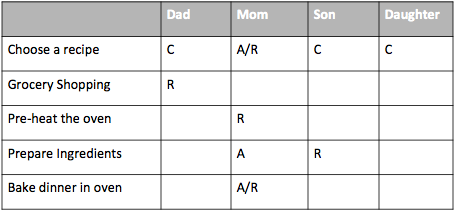 Learn more about RACI and how it can help your team. For more information, read about the RACI codes or download our free RACI whitepaper.
RACI Solutions has been helping organizations across the globe utilize the power of RACI to transform the dynamic of cross-functional teams since 2007. Whether you are new to RACI or have used it for years, we can help.
Today's business environment is complex – you may be contending with matrix structures, rapid growth, mergers, multiple locations, virtual employees, and/or digital transformation.
As a result, project teams can get stuck. Let us help you! If you need to learn RACI, we offer train-the-trainer materials and custom workshops. We can help you create RACI super-users. If you already use RACI or another decision matrix, we offer programs that help you become skilled at working across functions – an effective horizontal leader. We help project teams tune up their performance. We help organizations streamline their decision-making.
Our team is comprised of expert consultants, trainers, and facilitators, who can help your teams and their leaders achieve a seamless level of collaboration.